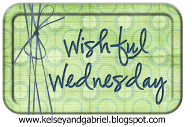 Today is Kelsey's last "Wishful Wednesday" for 2009! The topic is "what Santa forgot". Well, I am so blessed with such an incredible husband and loving family.. that Santa really didn't forget anything! If there was one thing though that I'm dying for and still haven't given in to purchase it's...

'I wish' ... Santa would have remembered a Nikon D5000 was on my list!
Oh... I wish Santa would have magically put that under my tree this year! But, between school tuition payments and house notes.. it'll just have to wait! ha!